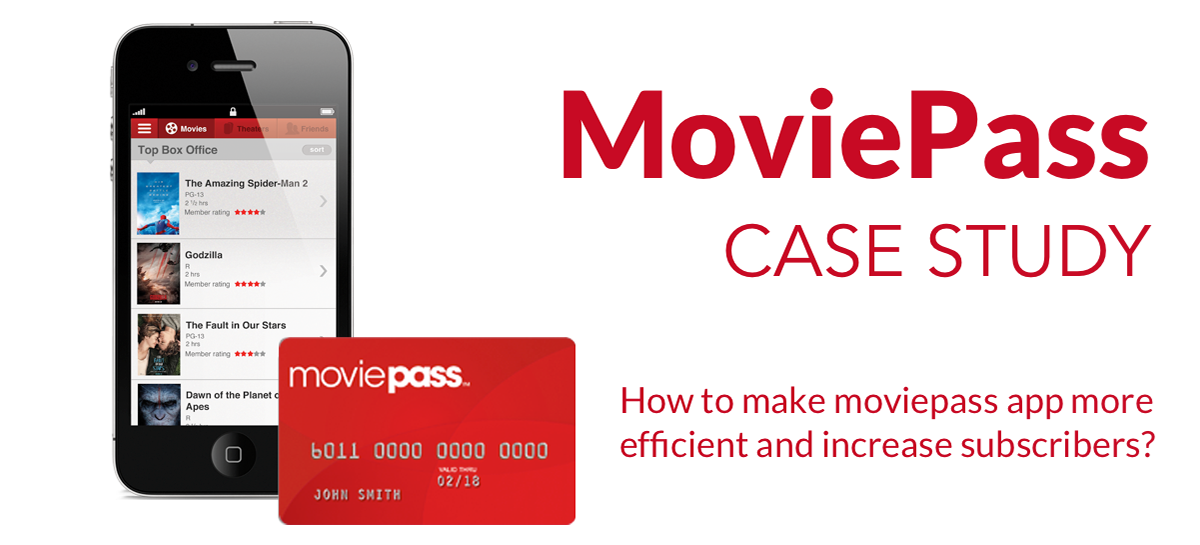 Movie pass is a Movie Subscription Service at any theater.

WHY USING MOVIEPASS AS A CASE STUDY?
As an avid user of moviepass, it was a personal challenge to improve usability. I was willing to work on the major pain points. I've checked on the Apple store, there's not a lot of reviews but one of them is :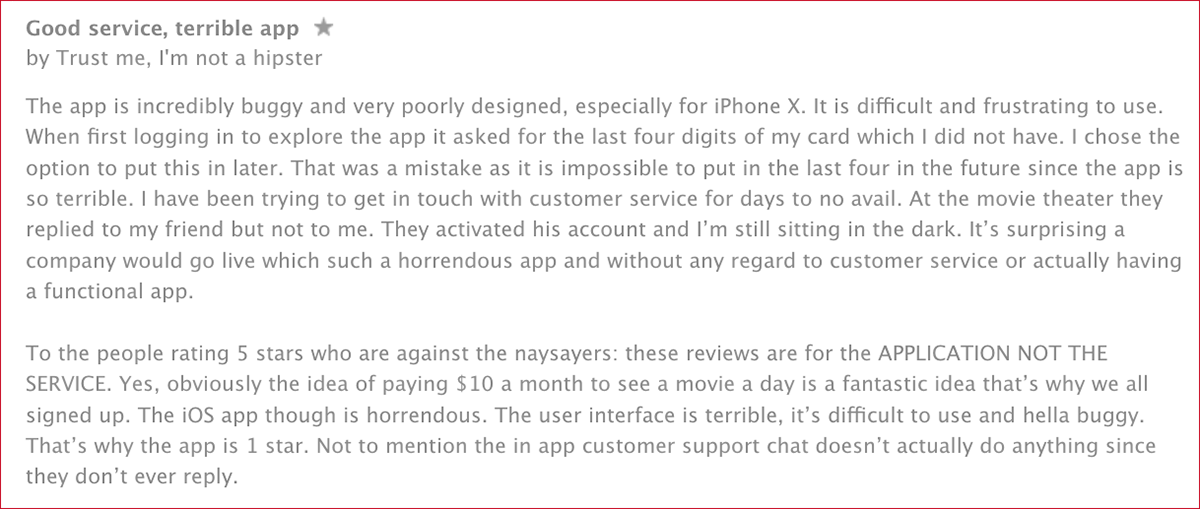 I started the process with the creation of a persona to guide my assumptions.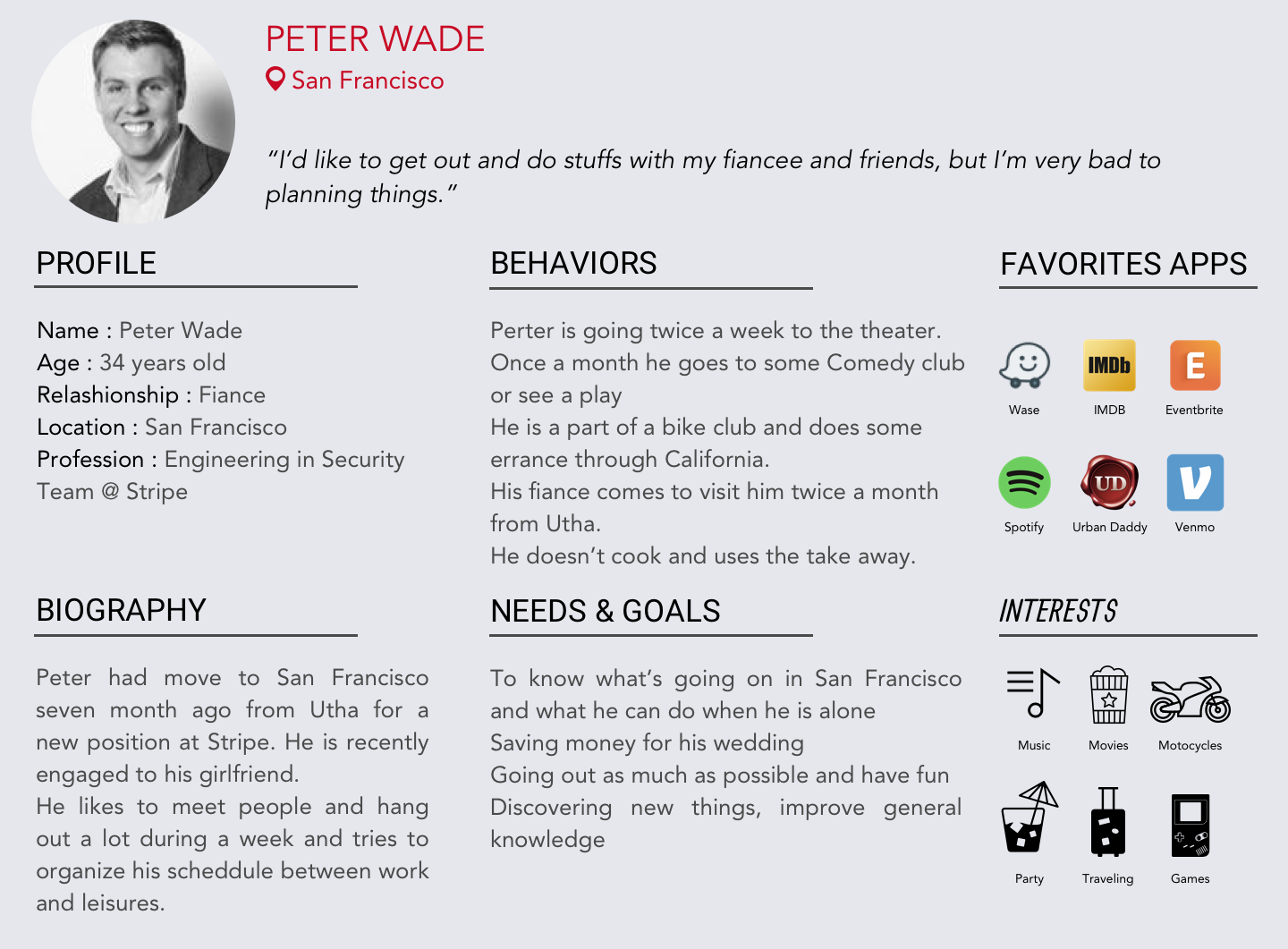 Then I was able to write scenarios and Job Stories in order to prioritize what features I was interested to work on.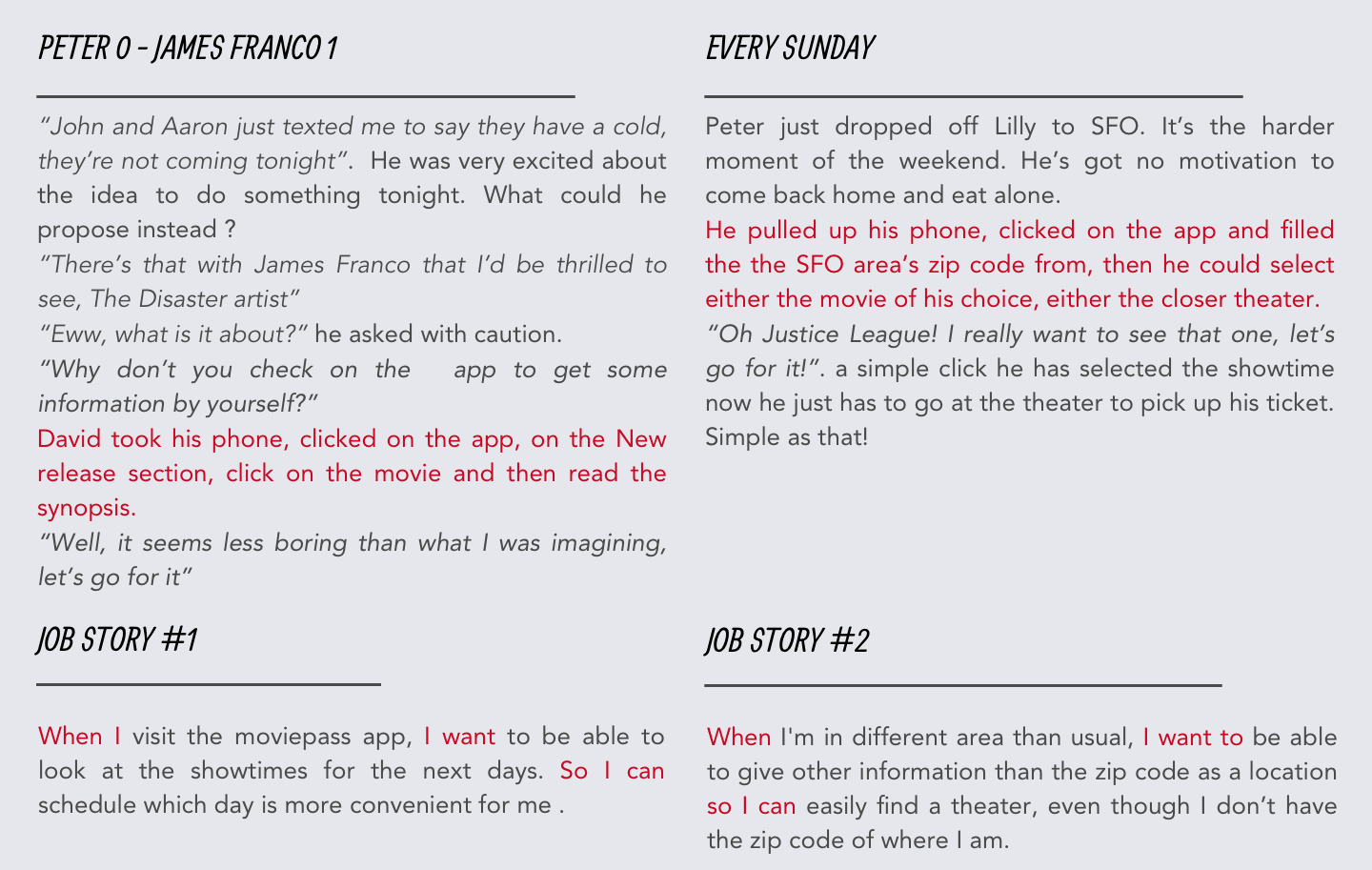 I already have some assumptions and features in mind that I wanted to be tested so I've targeted thirty something users in a residential neighborhood a Sunday morning to practice a "
Guerilla"
.
I did 5 interviews with some random questions and then came with 5 tasks on the app.  I've recorded all of them to analyze the behaviors of the users and their insights and I used sticky notes to organize my thoughts.
The results weren't exactly what I expected. Let's have a look at the synthesis :

First I've created an Affinity Map with the input of the interview. I was then able to define what was wrong from my users side.
The affinity map helped me defining what was wrong. There were 4 point,s but with the help of the Pain Point Mapping, I was able to classify them by priority :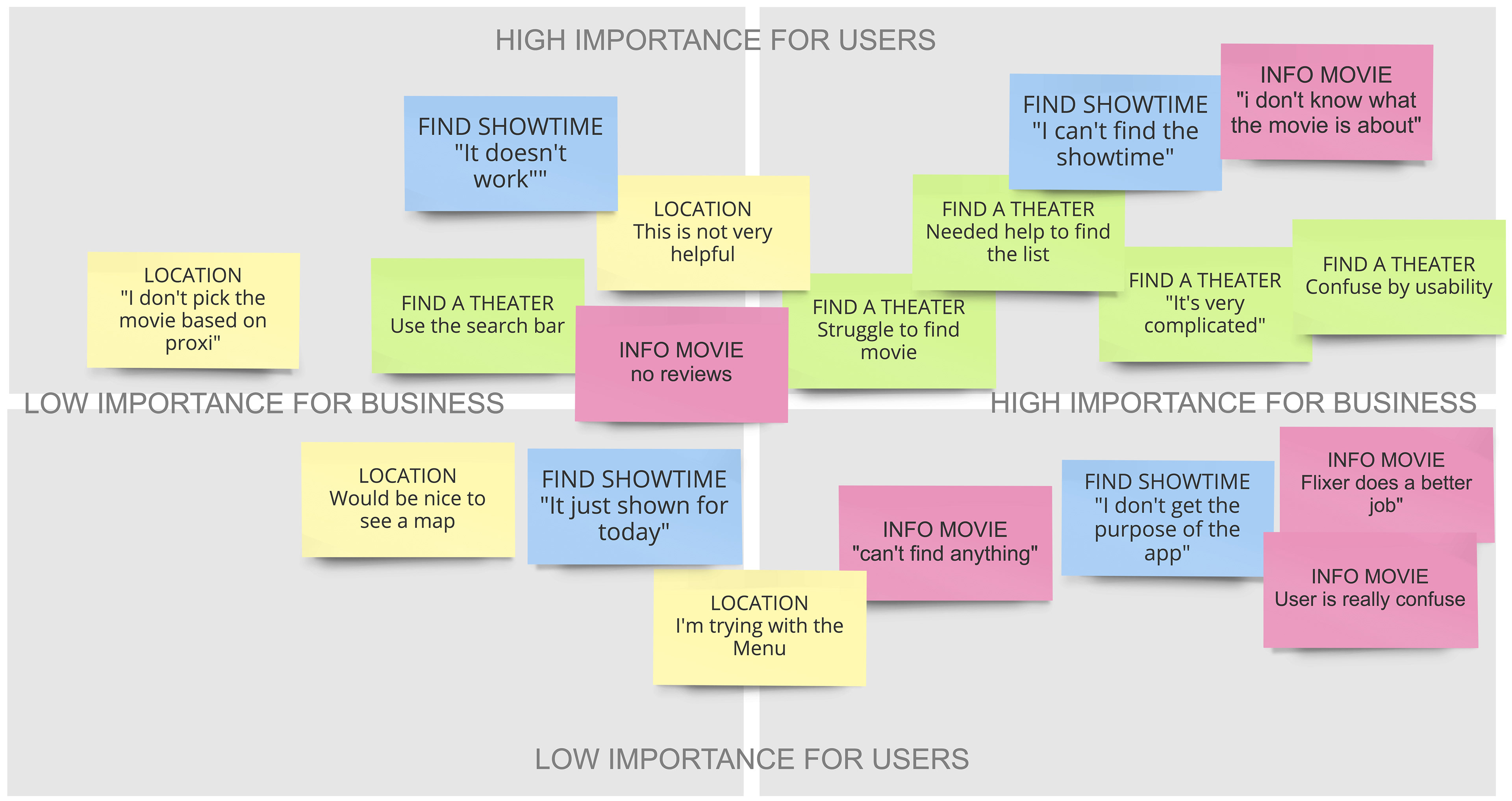 Then I was able to synthesize all my findings:

Before drawing or designing anything, I did a
Task flow
to determine every steps the user has to do to complete the tasks.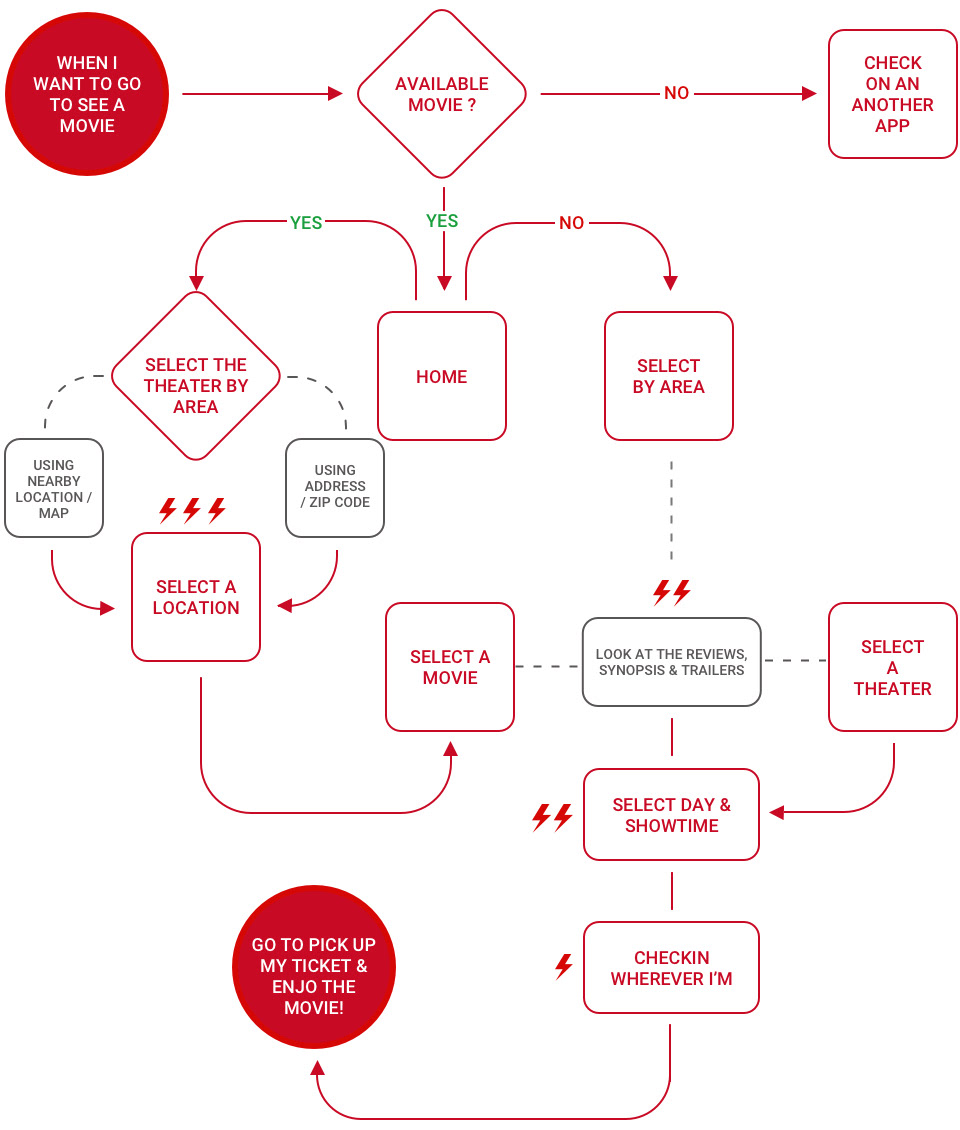 The Task Flow gave me enough information to start. I've drawn some paper sketches. I focused on the flows I was interested in :

USERS TESTING, SKETCHING AND PROTOTYPING
I use the "Guerilla" testing. I tested on five users, then I used the "Crazy 8" sketching and finally, I've prototyped screen to test the user's regular flow to accomplish the tasks.
I've decided to split the pain point of the location in two segments :

 How to find a Theater? and How to change your Location?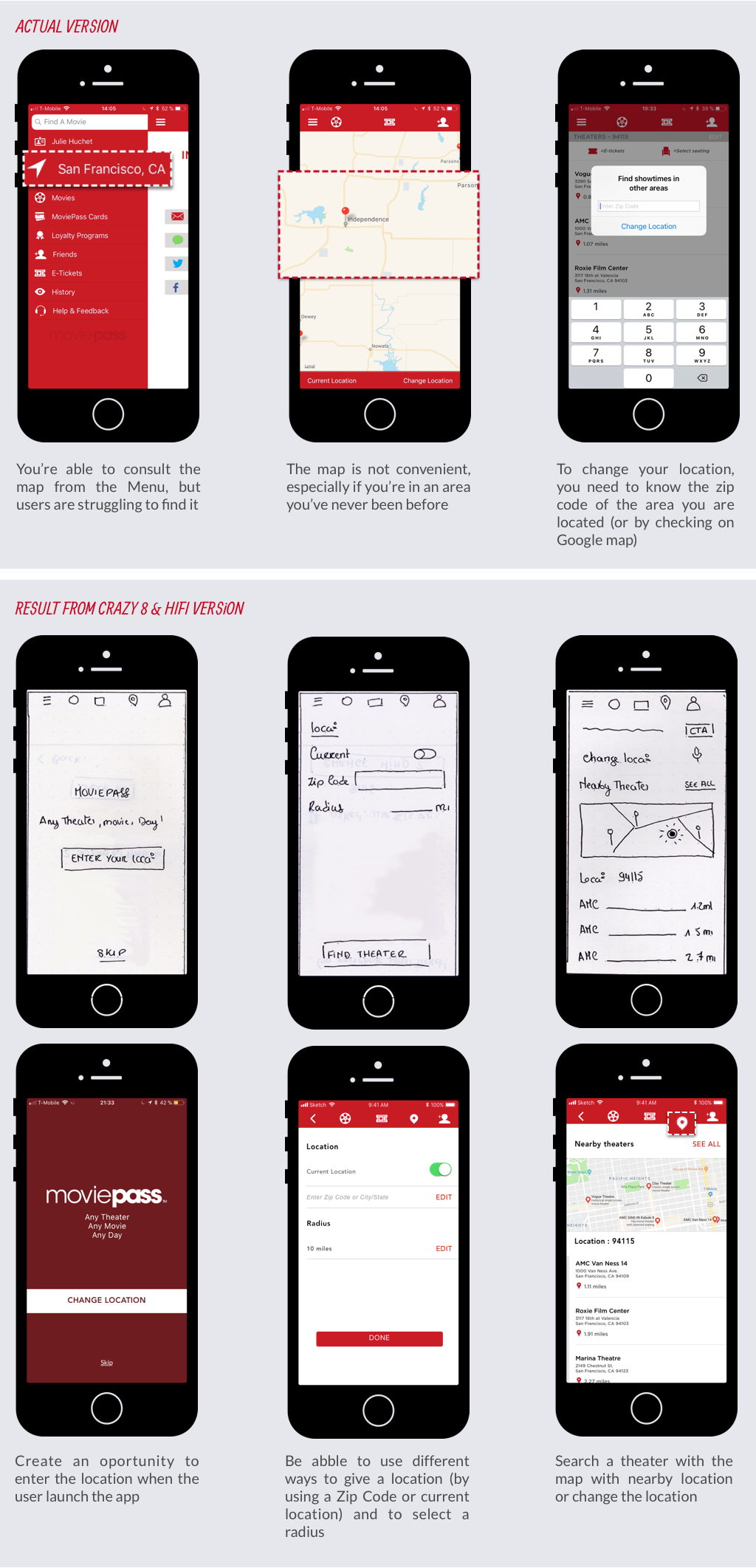 Regarding all the comments from the users testing I did some changes to make the tasks easier.
The Movies information
was a big point. I've compiled users' comments and my own expectations in these screens. 
I did a quick clickable prototype in order to test it on five users.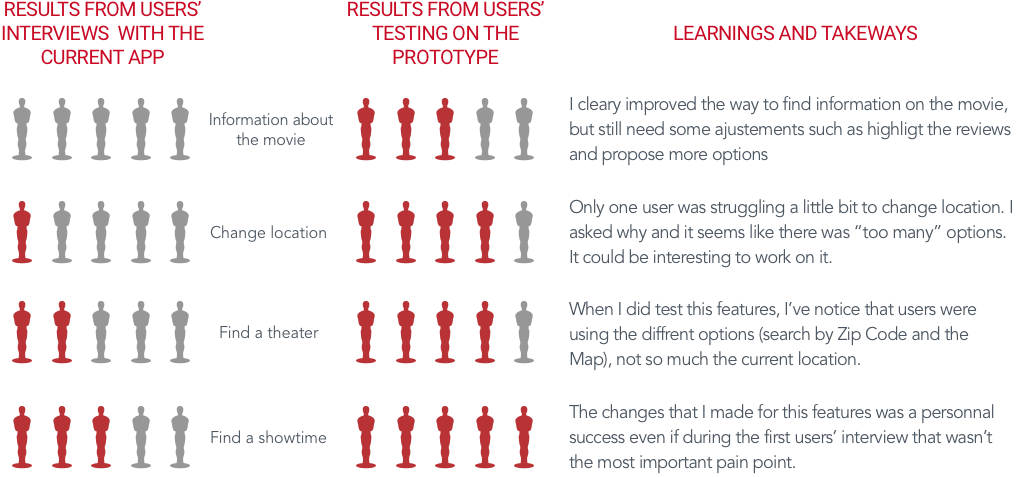 This was an enlightening exercise to improve moviepass app. 
First I was skeptical about all the research, but when I tested the app with the first bunch of users and had collected all the info, it totally made sense. The practice gave me more information than I was expecting.
I started that case study with a precise idea of what could happen and, even if I wasn't totally wrong, the order of the pain points wasn't exactly where I was thinking, same for the Check In, that I considered a major problem and wasn't, etc...
There's still a lot to improve about moviepass app, so it was frustrating to pick some issues and ignoring some others. It was for a good sake, even if my results still could be improved as well.