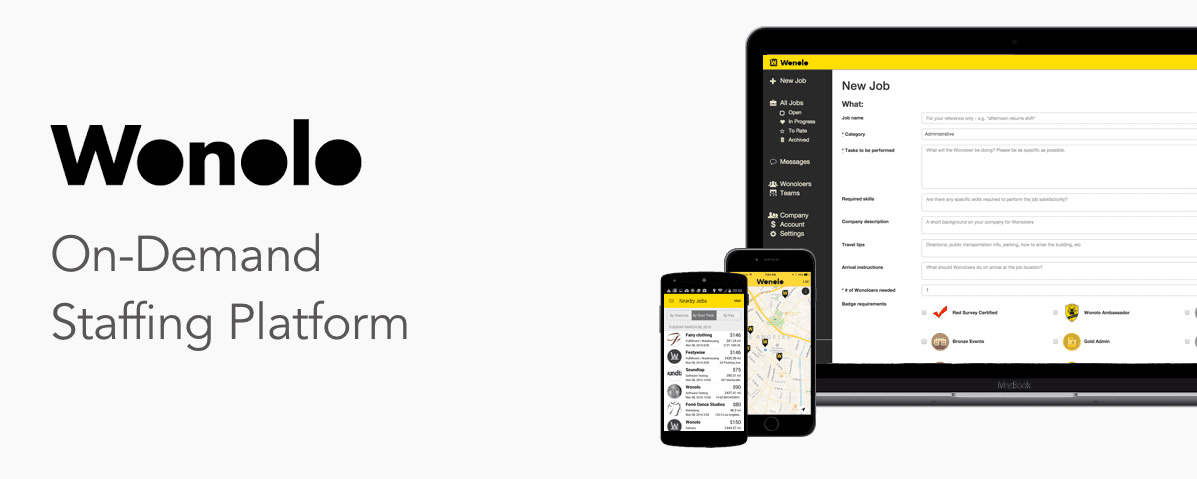 Wonolo is an app that connects jobs seekers (Wonoloers) looking for short-term work with hundreds of companies.
We were consulted because they realized that Wonoloers weren't engaging enough with their profiles or badges.

Wonolo explained to us that Wonolers were :
1. Not really Tech Savvy
2. Frustrated and confused regarding the current app (Not able to learn how to earn Badges for example)
3. Constantly looking for gig
Our goal was to make tasks easier for them and create a pleasant experience.
We split our researches using either
Deck Research
and
User Testing on 8 Wonolers
to define what is actually useful and what could be added. Regarding the deck research, we did a C
omparative Analysis
based on other staffing apps to define what could be improved on several points :
We targeted 4 pain points from the User interviews :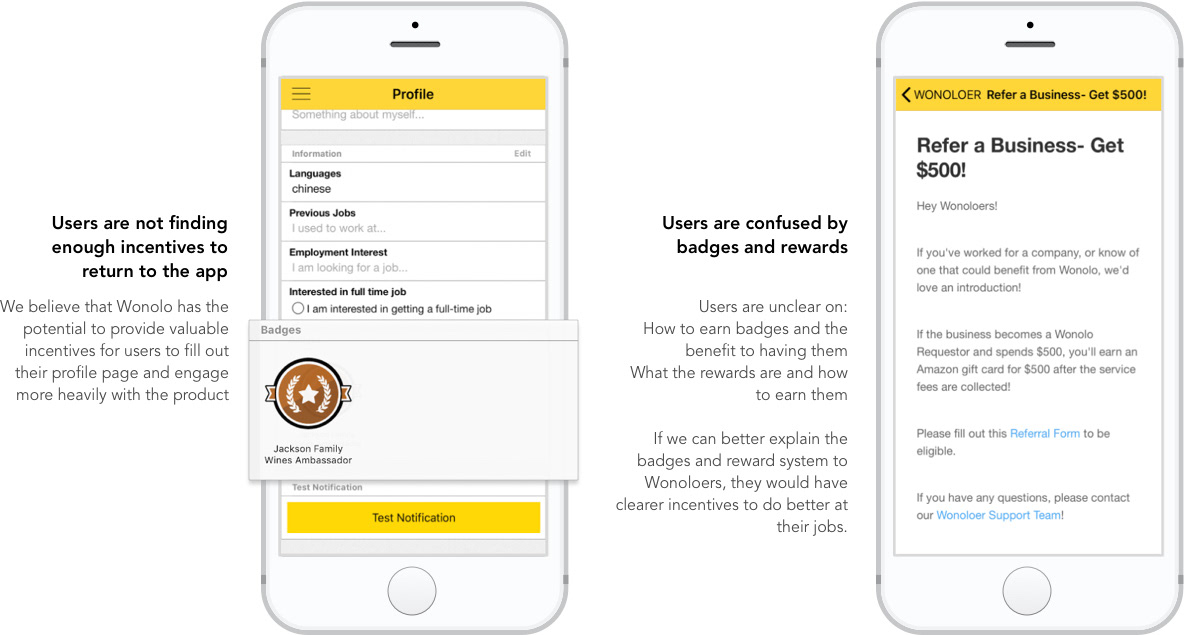 SYNTHESIS OF OUR RESEARCHES
Confusion about the profile & badges were lead by :

People don't engage with things they can't understand.
​​​​​​​ Our role was to help them seeing the value of using the app even more and to increase their engagement with it. For these reasons we've decided improve the potential of these features. 

STARTING TO SOLVE PROBLEMS
and what we've learned
We did a Design Studio in order to test prototype on a different users.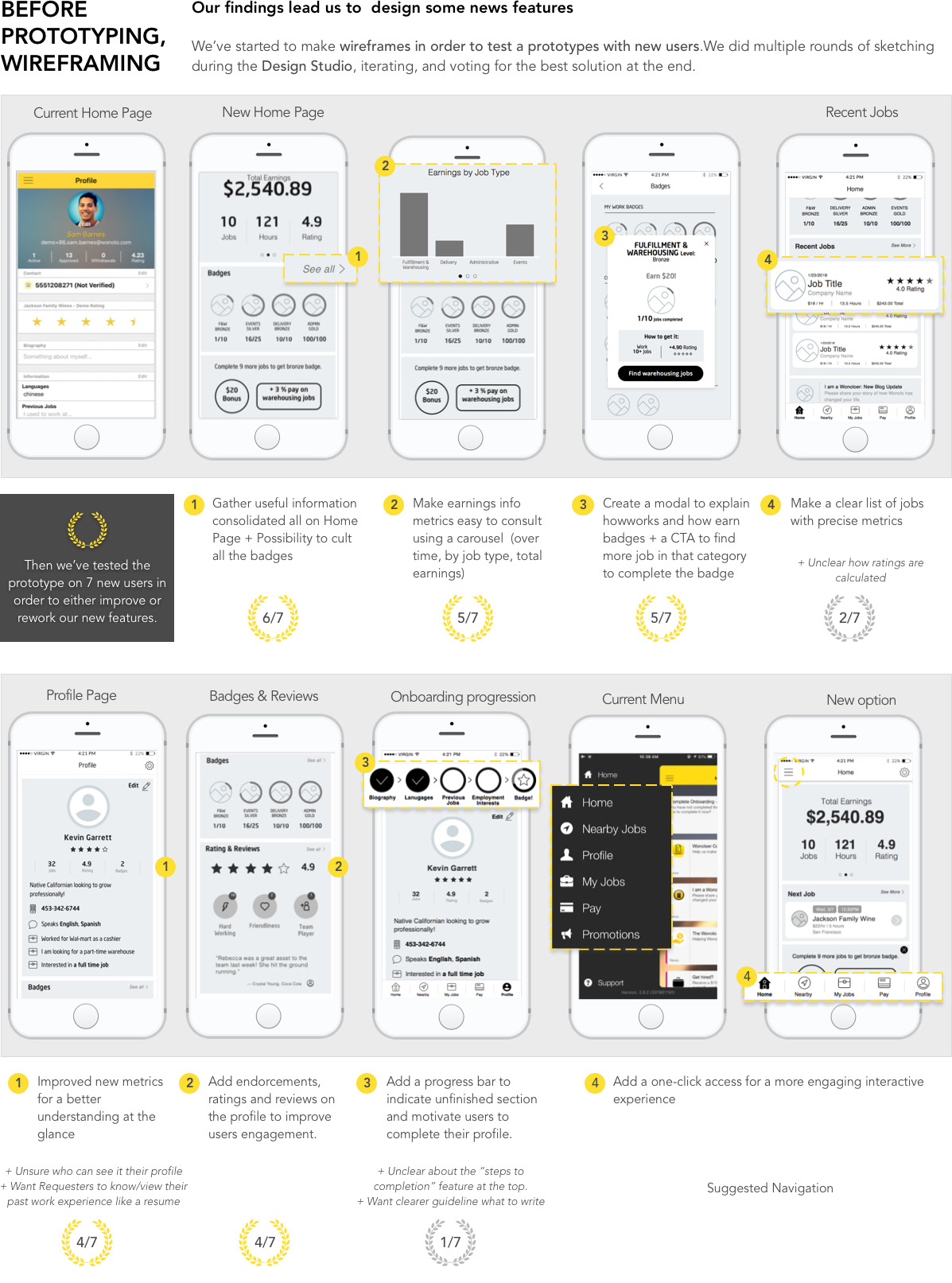 Our findings have lead us to iterate more, we fixed and improved what could be done.
We tested our last version on 8 new Wonoloers on a
HiFi Android prototype
.
Our features were provided on responsive, Android and iOS version, according to
HSG and Material design
. 
Because Wonolo didn't have any, we offered to create a design system as well.
You can see the result of our HiFi prototype below :
LEARNINGS AND TAKEAWAY
We were lucky enough to test our prototypes several times with users and we had a lot of empathy for them. That helped us creating a valuable experience. That interaction was our guideline.
Product Designers don't just want it to work, we want to solve problems, we want to remove the pain points and we felt that way working for Wonoloers.
To conclude and learn more about that experience, we did a
Heuristic analysis
and what we've found was very useful.
HEURISTIC ANALYSIS
Our scope was
Home Page
and
Profile Page
and we
mixed and matched Schneideman and Nielson's methods

and we removed

 
redundant or irrelevant heuristics for our subject.​​​​​​​